How will we purchase our travel in the future? Will travel retailers exist, or will we buy purely online?
Recently the Studio Gascoigne team was thinking about travel (we're always thinking about travel!) and got to thinking about how exciting the journey is, but how boring most travel shops are. We decided to put our minds to the challenge of re-imagining travel retailing and seeing if we could change the world.
We even gave the project a name: "The Journey Book." Read on…
First, imagine you are finally ready to take the trip you've always craved. You've got visions in your head about what you are going to see and how great you'll feel. But your first step on the journey is either stuck in front of your computer (just like being at the office) or at your local travel store, which probably looks more like an office than a shop.
You know those places – a few desks in front of posters of tropical locations, packed with screeds of boringly presented information (most of if completely irrelevant to you). The whole experience may just burst your bubble!
Here you can not only get inspired browsing a variety of media, but also book to go to the places you've heard about and get the feel of what it's going to be like when you get there. And here you can also start building your own journey in your own digital 'Journey Book', on your phone or tablet, so you can share it and have a tangible 'map' of your journey.
The most off-putting thing about your typical travel agency is that if you are confronted by rows of people sitting behind screens trying to sell you something without you really knowing what you are getting.
So, instead, our exciting new retail space has an entry with a browsing area, with curved walls of video screens linked to a large globe in the centre of the space. By moving the globe, which acts as a giant mouse, you can dial up images of any place on the globe zoom in and actually see them, many in real time. Of course you can also manipulate and save your virtual journey on your own phone or tablet at any time.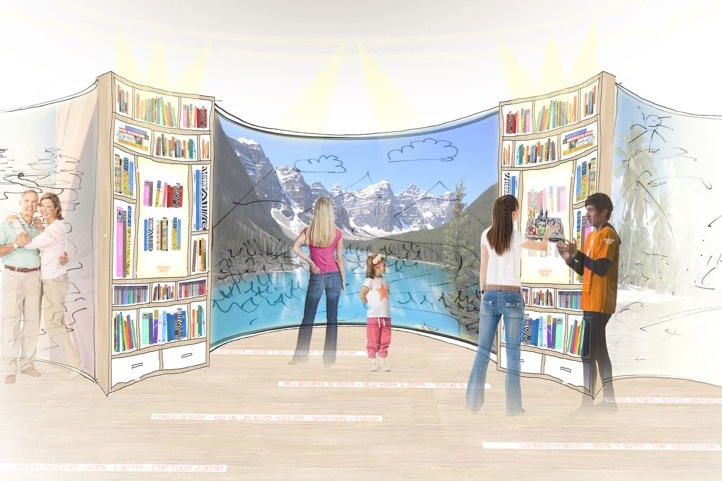 In fact there could be number of people looking so the screen-walls can be a montage of fabulous still and moving images of the places you want to be. And these are huge touch-screens so you can touch, drag, drop and browse to your hearts content – just like you would on your phone but only but bigger. Imagine the sight of several people scrolling through ideas and being able to see what others are looking at, to get ideas to share and to start talking about where you might go.
If you decide to take the experience further you can walk into the store to learn more. The interior is arranged as a circular journey. You start your journey with a series of semicircular alcoves consisting of huge digital touch screens. These surround you with the sights, sounds and experiences that you might want to try for real. Think of it as a giant version of Google Earth. In fact we would like to partner this platform but in real time.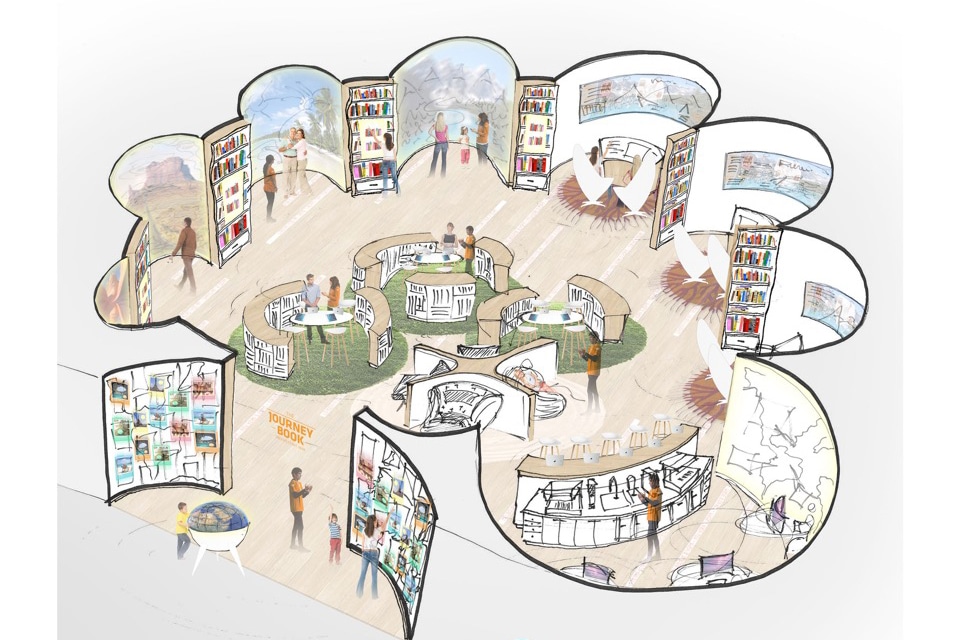 There is nothing like losing yourself in beautiful picture books or great web images when looking for some inspiration. So, in addition to travel books and brochures there are digital pin-boards and bookshelves which spring to life of the big screen when touched so you can experience the feel of the space complete with the sounds, smells and lighting effects, to trigger the experiences which will start you on a dream journey. If you want to enjoy a private virtual journey then the images are transmitted straight to your phone, tablet or virtual-reality goggles.
We see the central space as a neutral zone, free from the pressure of sitting fact-to-face with a sales consultant, so that if you choose to stay, you can sit, read and dream, (over coffee, of course). When you require some help one of the travel 'Guides' can be summoned to provide some specialist assistance, although much this will be done by 'Virtual Guide' apps.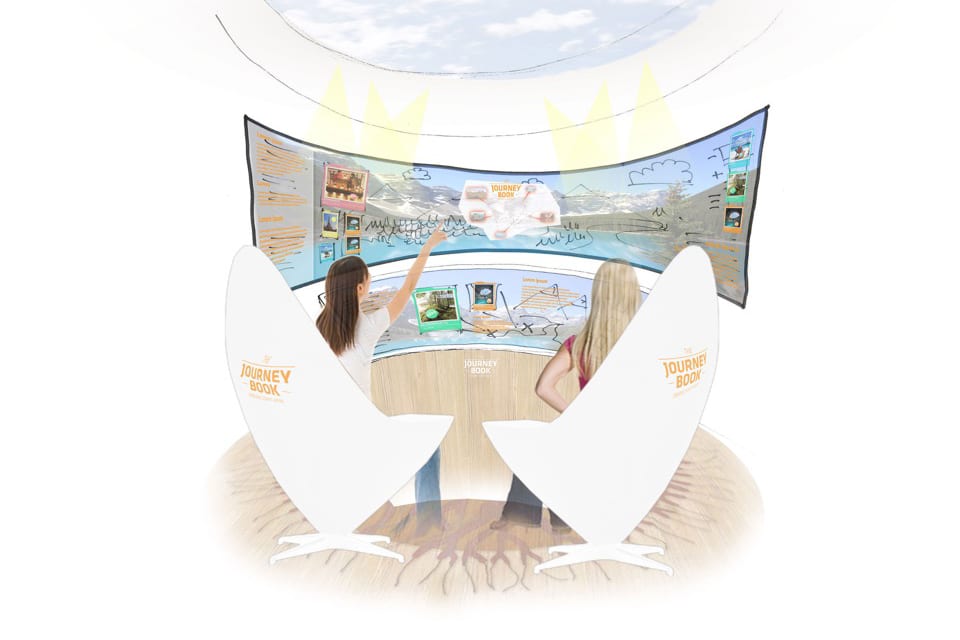 Let's say you are ready to get down to the specifics of your journey. The next series of curved alcoves are spaces to sit with a Guide who will help you through some of the practicalities of the trip. Here you sit beside your guide looking at a screen projecting your dream holiday rather than sitting across the desk looking at the back of their computer.
Let's say that you are undecided as to whether it would be worth upgrading your seat for example. Imagine if you could actually experience the seat options right in the store (also imagine the up-sell possibility for the sales staff). Not to mention the theatre of seeing your fellow travel-seekers putting the feet up and imaging themselves in first class (with a complimentary beverage of course)!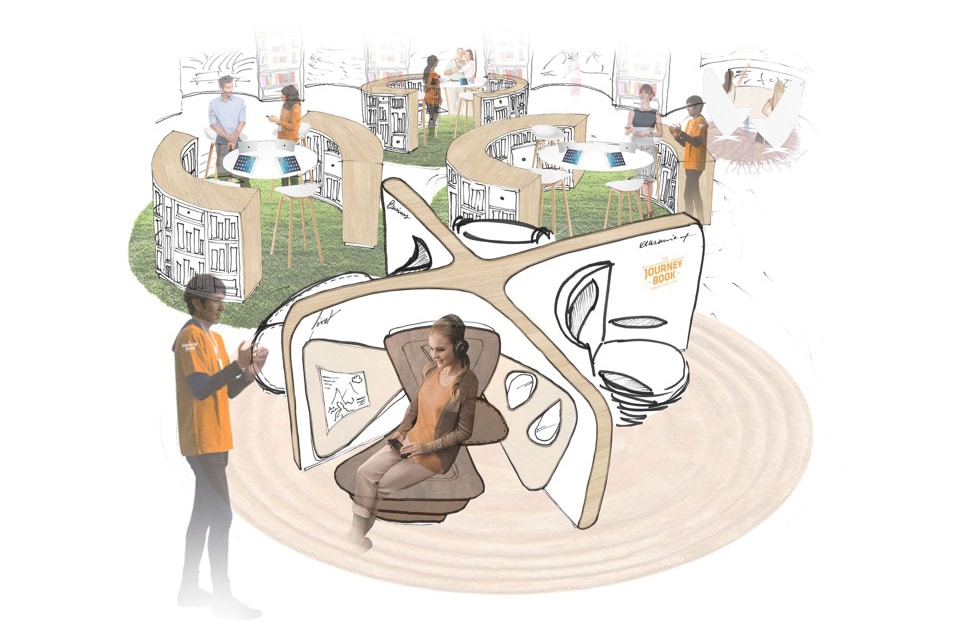 Now let's say you've made up your mind and want to book the trip. The last part of your in-store journey is to the concierge desk which, not surprisingly, looks like a flight check-in counter. Your virtual guide has been following you through your in-store journey and has compiled your own Journey Book (digital or printed – your choice) ready to take away with you and share via social media. This includes pictures, itinerary e-tickets, visas, vouchers and all the necessary paperwork. To this you can to add your own real-time photos to save and share with your friends (and fellow travellers if you choose).
As you leave the store proudly holding your own Journey Book, your trip has already started. Rather than having an anonymous pile of brochures, you have a personalised minute-by-minute travel plan for the entire trip. And, if you use the digital form, you can update in real time, so that even when you get home you can keep planning your journey and keep in contact with your Guide – so that they can do the leg-work if your plans change for any reason.
Just imagine being in such a space. Even if you weren't quite ready for a trip it would be inspiring and chances are that it might just push you into taking the plunge after all!
So, is there a place for travel retail in the future? With a bit of imagination, the team at Studio Gascoigne believes there is.